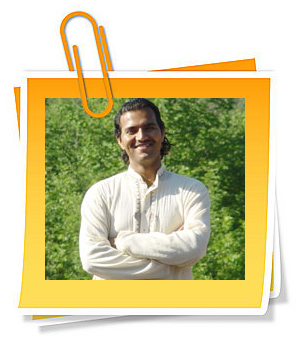 Sundeep K.Tyagi
Near the foothills of the Himalayas, Sundeep taught the Vedic scriptures, philosophy, sanskrit and Freedom Yoga. He has spent most of his life in selfless service to humanity disseminating the ancient knowledge of how to achieve radiant health and spiritual development. Friends say he embodies humility, kindness, and unconditional love for all. He practiced yoga in Northern India since childhood, while he studied as Bramacharia in Gurukal in Haridwar. Receiving Certification as a Vedic Priest, Sundeep went on to attain his Bachelor's degree-equivilent in Classical Indian Music, and his Masters (Aacharya) in Sanskrit ("the language of the soul").
He is truly happy to have opened a new school in his home village of Sisouna, Bijnour. The school, called Kanada Vidya Peeth, welcomes all local children and those from near by villages, whom otherwise would not have the opportunity to receive a proper education. Now, more than 900 students are in attendance annually.
In 1999 Sundeep was invited to Canada as a priest to share religious scriptures, ceremonies and give lectures. Since then, he has been teaching yoga, including mantras, meditation, and breathing exercises (pranayam). His aim is to spread the yogic way of life through living by example, and wholistic education and creating a collective of teachers, healers and friends.<
In 2014, Sundeep founded the Ontario-based not-for-profit organization Sanskrit Yoga Sabha. Through Sanskrit Yoga Sabha, Sundeep shares yogic knowledge and language education with his community. That year, he also published his book Sanjh: A Book of Poems, which includes poetry in English, Hindi, Urdu and Sanskrit. On the first ever International Yoga Day in 2015, Sundeep and Sanskrit Yoga Sabha launched the Yoga Chalisa. Chalisas are sung classical Indian compositions devoted to a particular subject or deity. Tulsi Das began the tradition of chalisas and Sundeep continued it by honoring Yoga. In 2016, Sundeep participated as an event organizer and presenter at the International Day of Yoga (Canada) at the International Centre in Ontario.
He continues to teach his classes in English, Hindi, and Urdu languages.