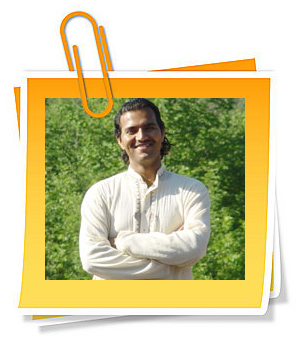 Sundeep K.Tyagi
Near the foothills of the Himalayas, Sundeep taught The Vedic Scriptures, Philosophy, Sanskrit and Freedom Yoga.
Spending most of his life in selfless service to humanity disseminating the ancient knowledge of how to achieve radiant health and spiritual development.
Embodies humility, kindness, and unconditional love for all.
He has practiced ancient Yoga (8 limbs) in Northern India. Studying 12 years as Bramacharia in the Gurukal style in Haridwar.
Receiving Certification as a Vedic Priest, Sundeep went on to attain his Bachelor's Degree in Classical Indian Music.
As well as his Aacharya (M.A) in Sanskrit (the language of the soul).
He is truly happy to have opened a new school in his home village of Sisouna. Kanada Vidya Peeth welcomes all local children and those from near by villages, whom otherwise would not have the opportunity to receive a proper education. In 1999 Sundeep was invited to Canada as a priest to share religious scriptures, ceremonies and give lectures.
Teaching Sacred Sound, Mantras, Meditation, and Pranayam. His aim is to spread the yogic way of life through living example, wholistic education and creating a collective of teachers, healers and friends.
Suneep is also a Reiki Master, published poet, brilliant speaker and rare soul. He teaches his classes in English and Hindi languages.